Kundalini Yoga Level 2
Module Authentic Relationships
With Shiv Charan Singh and Hari Krishan Singh
On location in Belgium & Online – English Language!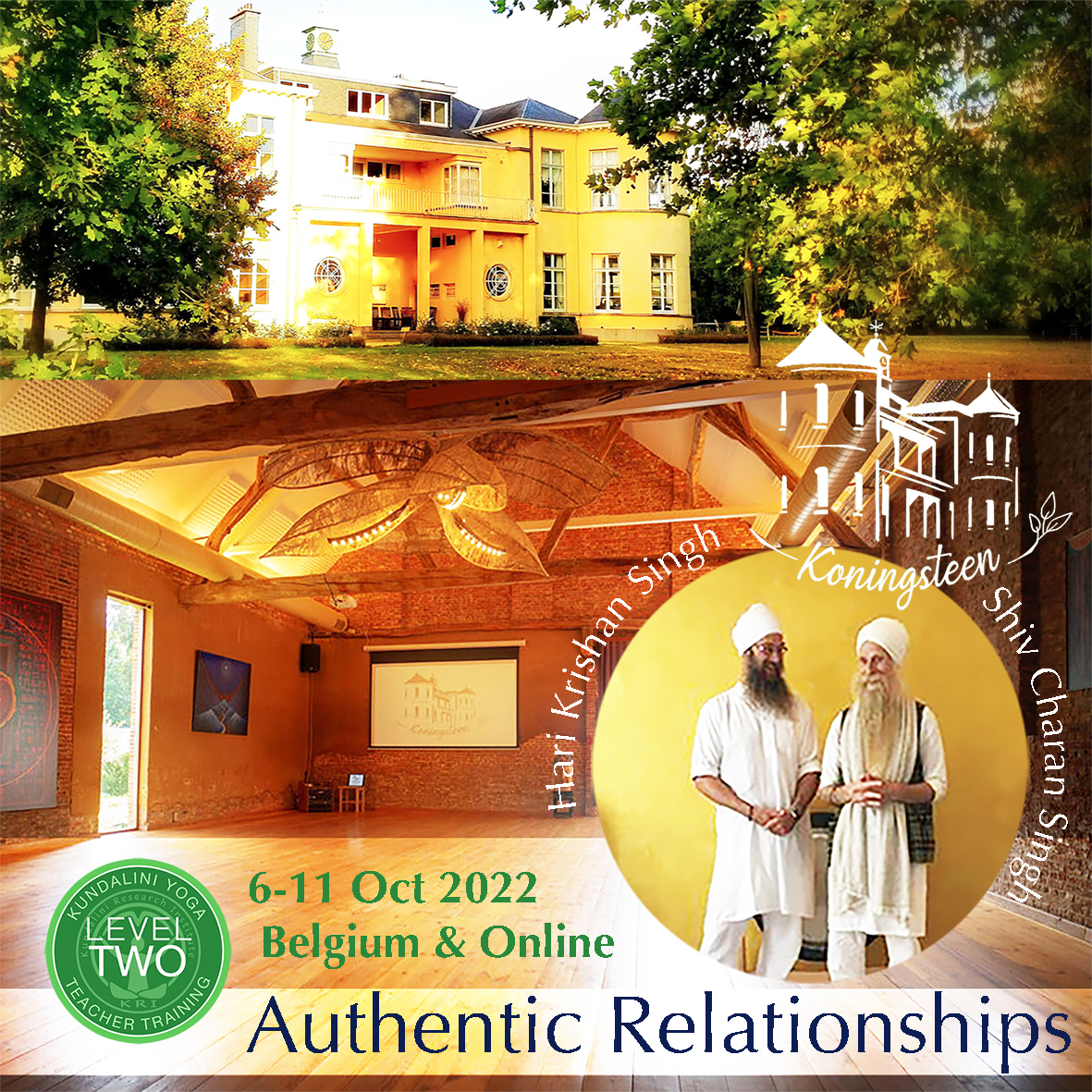 Authentic Relationships
Include yourself in God by full participation in the human experience. From incarnation of your spirit through living conscious relationships to merging with the divine while alive. Every relation is a manifestation of the relation between the individual soul and the Universal Soul. Practical discussions, exercises and meditations that give a deep insight into the most basic nature of man and woman as well as the methods to realize the highest consciousness through fulfilling your humanity.
Date:
Online: 6-11 October 2022
On location: Arrival 5 Oct after 17.00 – Departure evening 11th
If you would like to stay an extra night from 11-12 Oct.:
€47 pp/night for a shared room (incl breakfast)
€67 pp/night voor a single room (incl breakfast)
Bedding and towel included.
Price:
Online: €550,00 pre-registration before 1 Sept 2022. €575,00 after 1 Sept. 2022
On location: €999,00 before 1 Sept. 2022. €1049,00 after 1 Sept. 2022
This price is based on a shared room. There are no single rooms left.
Bedding and towel included.
If you have done this module before and would like to participate again you will receive a 50% discount on the teaching fee: €275,00 + Food and Acc. €449,00 = €724,00
There is also the option to come for Sadhana, or for a single day with only food and no accommodation. Contact us for more information!
RESERVE AND PAY REGISTRATION FEE HERE
Location:
Koningsteen in Belgium (www.koningsteen.be) & online on ZOOM
Koningsteen VZW
Oxdonkstraat 168
1880 Kapelle-op-den-Bos
Belgium
Koningsteen is located 25 minutes drive from Brussels Airport and 40 minute drive from Antwerp.
About 1 hour travel with public transport from Brussels Airport
Schedule:

5.30-8.00 CET Aquarian Sadhana with live music
9.30-16.30/17.00 CET Teachings
17.00-18.00 CET Watching Level 2 video (or reading the transcript in the study guide and doing the Kriya on the same day)
Impressions from Koningsteen in Belgium