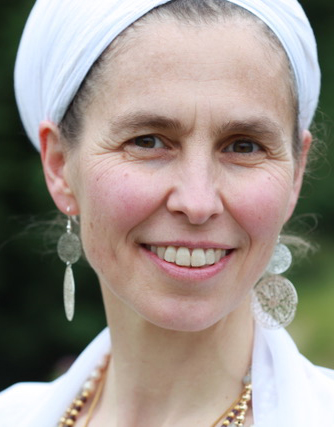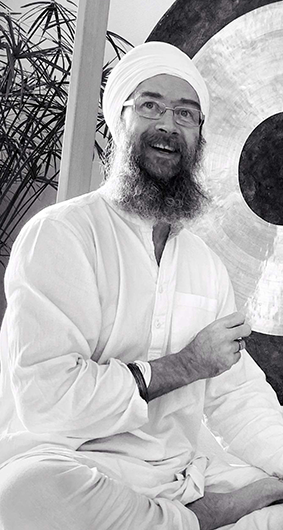 Bachitar Kaur is Lead Trainer in Kundalini Yoga and Karam Kriya Consultancy (number awareness). Her passion for a more humane world is reflected in her enthusiasm with which she teaches. Being a strong advocate for female solidarity and community building, she is specialized in Teachings for Women and also Conscious Parenting. Bachitar is co-founder of  the Kundalini Yoga Training Institute Cherdi Kala Yoga International, initiator of Yogaschule Golden Temple, founder of Yogahouse Prasaad and has co-developped the Divine Woman Program.
She has been living and teaching Kundalini Yoga in different countries to students with a broad variety of social and cultural backgrounds and special requirements including elderly people, drug rehabilitation centres, prison, schools, kindergardens.
Extended travels into East Asia during and after accomplishing her Master's studies in sociology, communication and organisational psychology in Germany and Spain back her understanding about Asian culture and philosophy, especially yoga.
Together with her Dutch husband and their two sons she now lives in South-Germany at Yogahouse Prasaad – a retreat place for conscious living in nature and teaches throughout Europe and Australasia.
She also loves ballet, playing music, gardening, cooking and laughing.
Hari Krishan Singh
Hari Krishan, Dutch but resident in Germany, is co-founder of Cherdi Kala International Kundalini Yoga School along with his wife Bachitar Kaur.
He travels and teaches internationally as a Lead level 1 & 2 Kundalini Yoga Teacher Trainer and is a Karam Kriya consultant and trainer. He is responsible for establishing many training programs around the world, often in cooperation with the Karam Kriya School.
With profound understanding and insight into the Teachings and an abundant sense of humor, Hari Krishan's infectious presence naturally puts people at ease. He brings the Teachings across in a way that is both light and deep and facilitates deep processes of change and personal growth.
He lives with his family in South-Germany in Yogahouse Prasaad, their retreat center near Lake Constance
A humble request.
We founded Cherdi Kala with the intention to teach Kundalini Yoga and Karam Kriya. Cherdi Kala means the art of upliftment and upliftment is easiest achieved in the company of  others.  May Cherdi Kala live up to its name and initiates activities where  the spirit of community invites human beings to meet each other beyond age, gender, nationality and belief systems and by that, to meet their true selves. May it establish a sense of community and may it inspire you to carry this sense into other areas of your life where it may uplift and inspire others to recognise the human race as One.
Sat Nam,
Bachitar Kaur & Hari Krishan Singh
Members of IKYTA and KRI level 1 and 2 certified – Members of the Court of Karam Kriya