The Mother's Journey
Kostenfreie online Informationsveranstaltung mit Bachitar und Devta
11. Januar 19:00 – 20:00 Uhr
Achtung: Frühbucherrabatt bis zum 24. Dezember 22
Ausbildungsbeginn 11. Februar 2023
Schwangeren- und Rückbildungs- Yogalehrerinnen-Ausbildung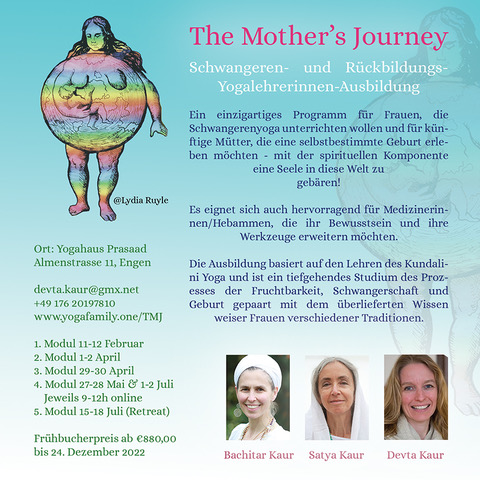 Schwangeren- und Rückbildungs- Yogalehrerinnen-Ausbildung
Beginn 11. Februar 2023
Achtung: Frühbucherrabatt bis zum 24. Dezember 22
The Mother's Journey ist ein einzigartiges Programm für Frauen, die pre- und perinatales Yoga unterrichten möchten. Es ist für Mütter, die eine ermächtigte Geburt erleben wollen und die eine spirituelle Komponente in ihre Entscheidung, eine Seele in diese Welt zu gebären, einbringen wollen. Es eignet sich auch hervorragend für Medizinerinnen und Hebammen, die ihr Bewusstsein und ihre Werkzeuge erweitern möchten. Darüber hinaus ist es ein ermächtigender Prozess für Frauen, die Angst vor der Schwangerschaft und der Geburt haben und ihre persönlichen Blockaden und Ängste überwinden wollen.
Die Ausbildung basiert auf den Lehren des Kundalini Yoga und betrachtet Fruchtbarkeit, Schwangerschaft und Geburt aus einer alten, yogischen Perspektive.
Kundalini Yoga und Meditation sind uralte und ganzheitliche Praktiken, die die Funktionsweise von Körper, Geist und Seele als Einheit behandeln. Es bietet eine perfekte Tool-Box, um jede Frau in die Lage zu versetzen, sich selbst besser kennenzulernen, einschließlich ihres unendlichen Selbst, und mit dem Stress und den Widrigkeiten der Familiengründung umzugehen. Die Technik des Kundalini Yoga, Pranayama und Meditation schafft Ermächtigung, Selbstwertgefühl und eine tiefe spirituelle Verbindung mit der kraftvollen Energie des Weiblichen.
Der Kurs zielt in erster Linie darauf ab, die Teilnehmerinnen mit Wissen und Techniken auszustatten, die sie befähigen, Kundalini Yoga und Meditation an schwangere und postnatale Frauen zu unterrichten.
Die Reise umfasst fünf Module plus Praktikumseinheit, die in drei Wochenendmodule, ein viertägiges Intensiv-Retreat und vier Online-Vormittage unterteilt sind.
Teilnehmerinnen, die The Mother's Journey mit einem Zertifikat abschließen möchten, müssen alle 5 Module besuchen. Der gesamte Kurs umfasst mindestens 96 Stunden.
Ein weiteres Ziel des Kurses besteht darin, die uralte und universelle weibliche Weisheit zu vermitteln, die im Westen weitgehend verloren gegangen ist. Dazu gehören auch Lebensprinzipien, tägliche Praktiken, Rituale und Rezepte.
Ausbildungsdaten
1. Modul 11-12 Februar
Die Reise beginnt (Bachitar Kaur)
2. Modul 1-2. April
Yoga in der Schwangerschaft (Devta Kaur)
3. Modul 29-30 April
Bewusste Geburtsvorbereitung (Devta Kaur)
4. Modul 27+28 Mai und 1+2 Juli jeweils online 9-12 Uhr (CET)
Die Postnatal Phase (Satya Kaur)
5. Modul und Praktikum 15-18 Juli
Die Selbstermächtigung der Frau: Female Leadership (Bachitar Kaur)
Ausbildungsort
Alle Wochenenden so wie das Residential finden statt im
Yogahaus Prasaad
Almenstrasse 11
78234 Engen-Anselfingen
Prasaad.de