Kundalini Yoga Level 2
Module Mind and Meditation
With Shiv Charan Singh and Hari Krishan Singh
On location in Belgium & Online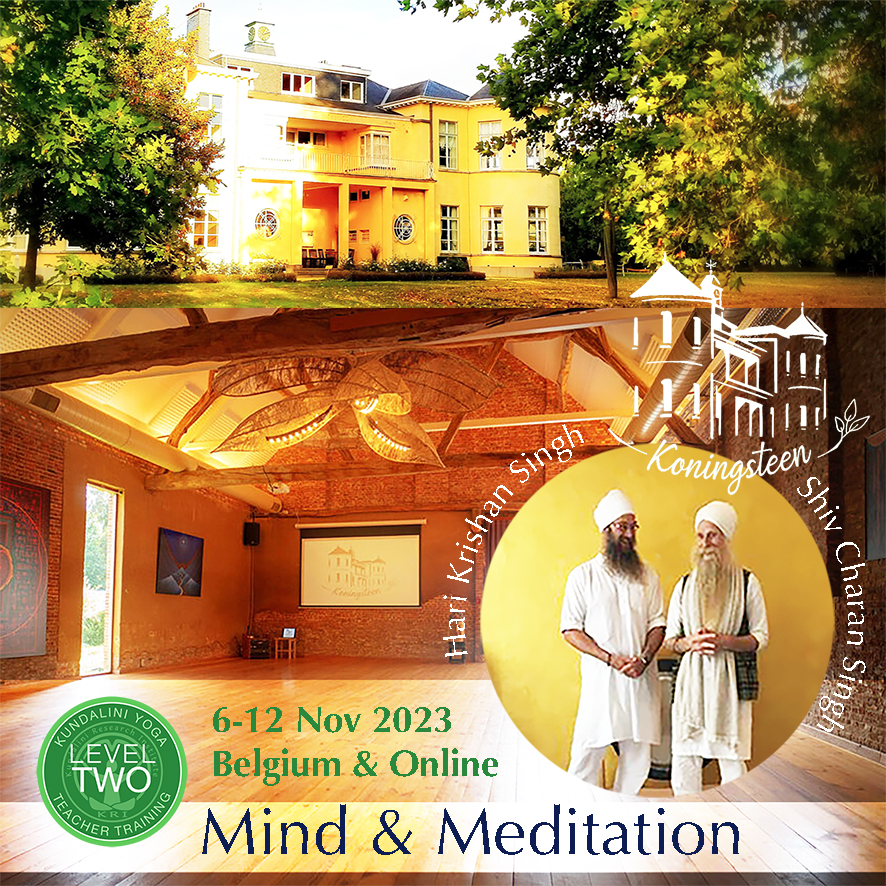 Mind & Meditation
Conquer the mind and you will conquer the world. The mind is the problem yet within it is the solution. This is the opportunity for an in depth exploration of the mind, its functions, facets and projections. Learn to recognise your own tendencies and experience the meditations that transform the mind into a truly great and helpful servant of your soul. The medatative mind provides the means to be still, intuitive and creative.
Date:
Online: 7-12 November 2023
On location: Arrival 6 Nov after 17.00 – Departure evening 12th
If you would like to stay an extra night from 12-13 Nov.:
€47 pp/night for a shared room (incl breakfast)
€67 pp/night voor a single room (incl breakfast)
Bedding and towel included.
Price:
Online: €550,00 pre-registration before 1 Oct 2023. €575,00 after 1 Oct. 2023
On location: €999,00 before 1 Oct. 2023. €1049,00 after 1 Oct. 2023
This price is based on a shared room.
Bedding and towel included.
If you have done this module before and would like to participate again you will receive a 50% discount on the teaching fee: €275,00 + Food and Acc. €449,00 = €724,00
There is also the option to come for Sadhana, or for a single day with only food and no accommodation. Contact us for more information!
Location:
Koningsteen in Belgium (www.koningsteen.be) & online on ZOOM
Koningsteen VZW
Oxdonkstraat 168
1880 Kapelle-op-den-Bos
Belgium
Koningsteen is located 25 minutes drive from Brussels Airport and 40 minute drive from Antwerp.
About 1 hour travel with public transport from Brussels Airport
Schedule:

5.30-8.00 CET Aquarian Sadhana with live music
9.30-16.30/17.00 CET Teachings
17.00-18.00 CET Watching Level 2 video (or reading the transcript in the study guide and doing the Kriya on the same day)
Impressions from Koningsteen in Belgium