Karam Kriya Yoga Coaching Training
Start 15 October online in English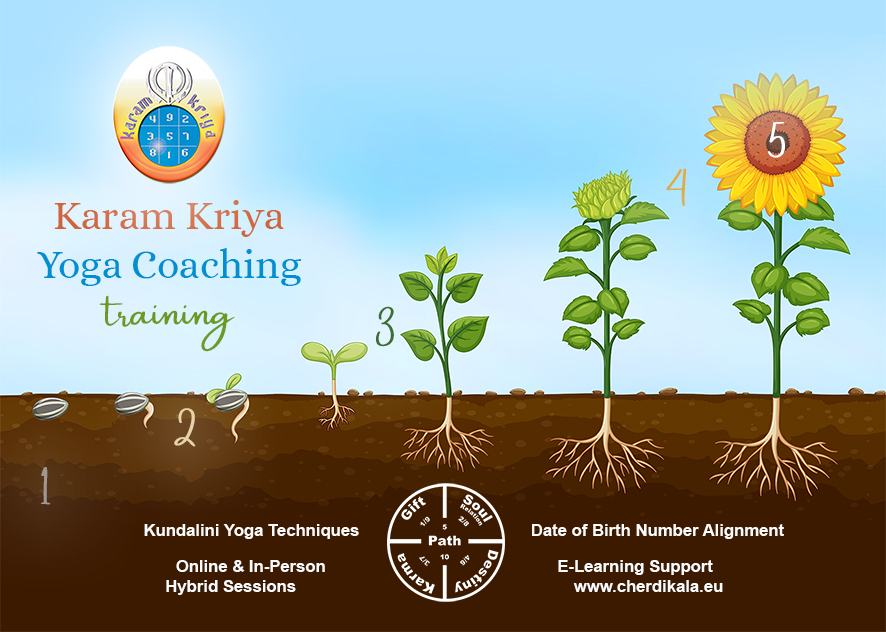 Many times in my life I would have loved for someone to have walked beside me to remind me of my talents (1/9), help me refine my daily energy levels (2/8), confront me with my patterns and sabotaging habits (3/7) and given me a reality check (4/6), so that I could walk my Path with more Harmony and Balance (5/10).
This training provides you with the skills to offer this service and to support others in their awakening journey to their elevated Self.
These skills are based on the language of Number. A language that has its origin in something that goes beyond the Mind, beyond your own preferences and judgements, so you can align with the essence of the other instead of coloring their story with yours, and allow you to transcend story altogether.
If you want to do this training, we recommend that you have started or completed the Kundalini Yoga Teacher Training Level 1, or that you are an experienced KY practitioner, to be able to use the technology of KY to support the other in their process. A process that covers at least 90 days (a minimum time to establish a new habit after breaking through old ones) and includes 6 coaching sessions and practice from the KY tradition.
If you want to know more, join the online introduction session with Hari Krishan Singh on Thursday 20 October 2022 from 19.00-21.00. Let us know if you want to join:
info@cherdikala.eu
Short overview of the Karam Kriya Yoga Coaching Training:
To be trained in Karam Kriya Yoga Coaching is a program of 18 sessions. 2 sessions per Number (7,5,1,2,3,4,6,8,9).
The training will be supported by an E-Learning platform through which you will receive homework, find supporting material like videos, documents and a discussion group. You will also be working in Study Groups.
We use the book 'Let the Numbers Guide You', from Shiv Charan Singh, as a main reference.
You will undergo a 90-120 day coaching from one of the trainers during or before the training.
Homework / examination: offer a 90-120 day coaching and write a report (report has to include a certain amount of specific topics).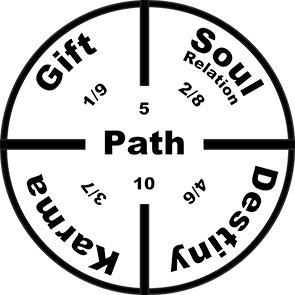 Price
All sessions: €1.300,00 (all online or 14 online sessions and 1 weekend in-person) Incl. a 90/120 – day personal coaching!
Accommodation during the in-person weekend: €26,00 per night
Food during the in-person weekend: €40,00 per day
Our main reference:
€14,95 (click the image to order)
Dates
Schedule:
Online Morning sessions 9.30-13.00 (+ Sadhana 5.30-8.00) CET
Hybrid Weekend 9.30-18.00 (+ Sadhana 5.30-8.00) CET
Number 7 15 Oct 2023
Number 7 22 Oct 2023
Number 5 29 Oct 2023
Number 5 12 Nov 2023
Number 1 19 Nov 2023 
Number 1 10 Dec 2023
Number 2 21 Jan 2024 
Number 2 28 Jan 2024
Number 3 4 Feb 
Number 3 11 Feb 
Number 4 18 Feb 
Number 4 10 March 
Number 6 17 March 
Number 6 24 March
Numbers 8,8,9,9 4&5 May Intensive HYBRID (you can attend in person on location at Yogahouse Prasaad or online).
Location
All sessions: Online on ZOOM
In-Person: Yogahouse Prasaad, Almenstrasse 11, 78234, Engen-Anselfingen, South-Germany