Feb
3
Thu
2022
Karam Kriya 4 Kundalini Yoga Online Intensive 2022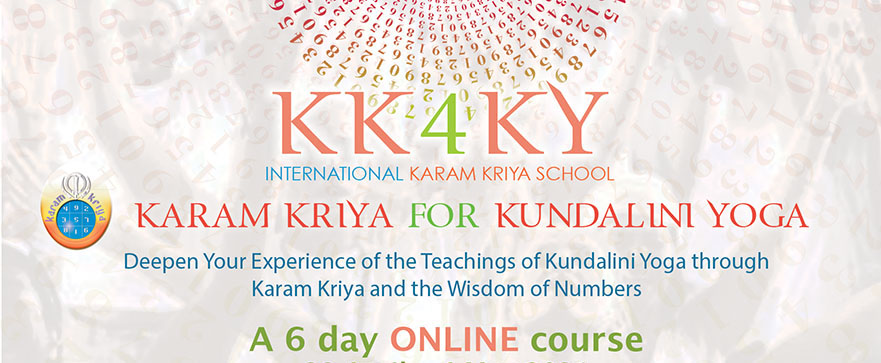 THIS TRAINING WILL BE OFFERED ONLINE!
Sat Naam all,
Guided by 3 experienced Karam Kriya Trainers and Kundalini Yoga Teacher Trainers you will go through the journey of the Numbers in relation to Kundalini Yoga in daily Zoom sessions. There will be teaching, discussions, group work and of course kundalini yoga!
This can be seen as a general introduction to the Numbers and Karam Kriya as well. No previous knowledge of Kundalini Yoga is required.
Numbers through Kundalini Yoga and Kundalini Yoga through Numbers.
A profound and insightful journey into the building blocks of the universe (numbers) and Kundalini Yoga.
You will explore all the Numbers and their qualities in relation to KY in 6 days. Not only will you gain insight into this vast language of Numbers to integrate into your Kundalini Yoga classes and to deepen your understanding of this practice. You will also learn to recognise numbers in any other area of your life.
This course can also be taken if you are not a Kundalini Yoga teacher.
We will offer this online course at a reduced fee and you can also decide to join only 1 or a few days.
Daily Program
05:00 – 07:30 Aquarian Sadhana (open to all)
08:30 – 10:30 Teachings
10:30 – 11:00 Break
11:00 – 13:00 Teachings
Afternoon/Evening: self-initiated study group
Thursday 3 February:
Sadhana * 5.00-7.30
Number 7 * 8.30-10.30 & 11.00-13.00
Friday 4 February:
Sadhana * 5.00-7.30
Number 5 * 8.30-10.30 & 11.00-13.00
Saturday 5 February:
Sadhana * 5.00-7.30
Number 1 * 8.30-10.30
Number 2 * 11.00-13.00
Sunday 6 February:
Sadhana * 5.00-7.30
Number 3 * 8.30-10.30
Number 4 * 11.00-13.00
Monday 7 February:
Sadhana * 5.00-7.30
Number 6 * 8.30-10.30
Number 8 * 11.00-13.00
Tuesday 8 February:
Sadhana * 5.00-7.30
Number 9 * 8.30-10.30
Number 10 * 11.00-13.00
PRICE & PRACTICALITIES
All 6 days early bird: €235,00 registered before 15. January 2022
All 6 days normal price: €255,00 registered after 15. January 2022
Single day €45.
Single Number €25.
Trainer Team
An international Trainer Team is looking forward to sharing these inspiring and profound teachings with you:
Hari Krishan Singh (NL) Teaches Kundalini Yoga since 2003, is qualified Karam Kriya Trainer and Consultant and Lead Trainer for KY Teacher Training Level 1 & 2. He is co-founder of the international Training School Cherdi Kala and together with his wife he manages Yogahouse Prasaad in South Germany. Hari Krishan organises Teacher Trainings in different countries and teaches worldwide. He is an experienced trainer and his compassion and sense of humour bring both, depth and lightness into the teaching space. He cerates an atmosphere where you can feel safe to go deeper and deeper into Kundalini Yoga and dive into the experience of your Self.
Bachitar Kaur (D) is Lead Trainer in Kundalini Yoga and Karam Kriya and teaches since 2005 in Europe, Australia and Asia. She is a mother of 2 sons, co-founder of the international training school Cherdi Kala as well as the Divine Woman Program and manages Yogahouse Prasaad near Lake Constance, where she lives with her family. She is a strong advocate of female solidarity and community building. Her passion for a more humane world is refleted in the enthusiasm with which she teaches.
Kirpal Singh (D/F) Martial arts, theater, clowning and spirituality, are part of Kirpal Singh's upbringing in West-Germany. From 1985 he concentrated on Kundalini Yoga, which accompanied him through his life in the film industry and finally brought him to the Teachings of Sacred Numerology – Karam Kriya. Since 1988 he has been living in France. He also teaches in Italy, Germany and England. He has studied western and Indian music. For many years he has explored transmitting the Teachings through song.In 1992 Kirpal Singh met his teacher Shiv Charan Singh. Under his guidance he became a Kundalini Yoga teacher and trainer Level 1 and 2, as well as a teacher, trainer and consultant in Sacred Numerology – Karam Kriya. In 2012, together with Ishwara Kaur, he founded Ik Saran Dhian – International School of Sacred Life.
Mar
31
Thu
2022
KYoga Level 1 Sweden 2022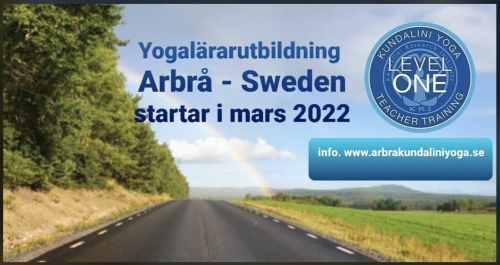 INFORMATION PACK COMING SOON
Information in Swedish HERE
Thank you for your interest in our Kundalini Yoga Level 1 Teacher Training in Sweden.
Here is an introduction video for another level 1 format to get to know the Lead Trainer Hari Krishan Singh:
FULL Schedule COMING SOON:
March – April 2022, 4 days
31 March-1 April Mod 1: Origins, lineage etc.
2-3 April Mod 2: Sound and Mantra
May 2022, 4 days
12-13 May Mod 3: The map, anatomy
14-15 May Mod 4: Posture
June 2022 4 days
Mod 5: Mind & meditation
Mod 6: Humanology
June-July 2022 4 days
30 June – 1 July Mod 7: Roles & resp.
2-3 July Mod 8: Patanjali & Death
Sept 2021 4 days
Module 9: Breathing, Living
Oct 2021 2 days
Mod 10: 10 bodies
Costs:
The cost of the full course is €3150,00 – SEK 32.000,00 including tuition, teacher training manual, administration & general services and examination fee.
Deposit/Registration Fee: A non-returnable deposit of €500,00 (5000 SEK) is required with your registration to secure a place. Exceptions are possible under extraordinary circumstances and will be dealt with individually.
Residential options:
price for accomodation excluded linnen: TBA
price for food: TBA
Payments: can be made in 3 installments or all at once. Exceptions are possible under extraordinary circumstances and will be dealt with individually.
You will receive an invoice when you complete this registration form. Your reservation is complete after payment of the registration fee or total fee. Please mention the invoice number with you transfer.
Cancellation Policy: In case of cancellation within 7 days after the first training session, the registration fee, cost for the first module and €100,00 administration fees are due. After 7 days after the first module has been completed, the full tuition fee is due. Contact us in case of special circumstances.
Please contact us for more information HERE
Some reflections on the Teacher Training process
The world is changing and so are we.
The future is here now and nothing will wait for you.
We unite and unite in compassion and solidarity.
Together we move towards higher consciousness.
Aquarian Teacher Training level 1 as taught by Yogi Bhajan in Arbrå / Hälsingland
When we live life at full speed, it is easy to get caught up in a dance that is not ours. With the stress pulsing in the body and the buzzing in the head, we lose ourselves. Our inner voice becomes weak and difficult to hear, the one who is our teacher, our consciousness that knows what choices and decisions we need to make to find our balance in life and live to our full potential.
Through yoga we step on a path to self-knowledge, like a map to our authentic self. Through our physical body we take the path to create balance and vitality. The way home. In kriya and meditation we learn to listen to our yes and our no. We discover that which is complete, that which we can let go of and that which needs healing. Yoga helps us to keep our minds bright, we feel more inner peace which allows the flow of creativity. We provide space for Kundalini, our life energy and potential.
A yoga teacher education is a journey, a path to self-immersion and personal development to connect to your authentic Self. You can choose to participate for your own development, because you long for immersion, more knowledge or want to be in a yogic environment. And maybe you want to establish a yogic lifestyle and live in increased health through an intensive period of 6 months with access to and guidance by an international team of experienced teacher trainers.
After completing your education, you will become an internationally certified Kundalini yoga instructor according to the Kundalini research Institute / KRI and you will be well equipped with techniques, kriyas, meditations, and experience to hold your own yoga classes.
It is possible to participate in a group (limited number according to FHO's recommendations) in Arbrå / Hälsingland as the intention was from the start, that the education would be on the ancestral farm of Sahai Kaur. Surrounded by nature and land that has been cultivated for hundreds of years, in the presence of horses and forest animals. During the winter months, we meet in Arbrå Kundaliniyoga's premises in central Arbrå.
Jul
14
Thu
2022
KYoga Level 2 Authentic Relationships, Germany
With Bachitar Kaur & Hari Krishan Singh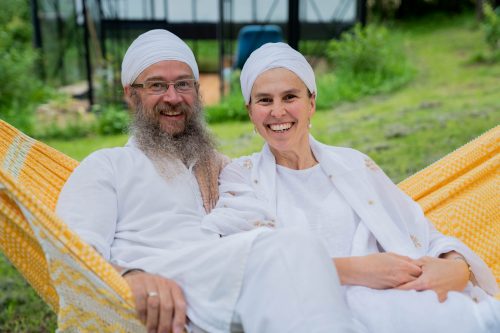 Informationen auf Deutsch, nach unten scrollen
Kundalini Yoga Teacher Training Level 2: Authentic Relationships
IN-PERSON ON LOCATION AND ONLINE (hybrid)
Authentic Relationships
Include yourself in God by full participation in the human experience. From incarnation of your spirit through living conscious relationships to merging with the divine while alive. Every relation is a manifestation of the relation between the individual soul and the Universal Soul. Practical discussions, exercises and meditations that give a deep insight into the most basic nature of man and woman as well as the methods to realize the highest consciousness through fulfilling your humanity.
On location @
Yogahouse Prasaad
Almenstrasse 11
78234 Engen-Anselfingen
Germany
Arrival afternoon 13th, departure after breakfast 20th.
Price: €550,00
Acc&Food: €350,00
The start of the training sessions will be 10.00 AM CET on the first day and 9.30-10.00 on the following 5 days. We will stop latest 16:30 CET online, and then online participants can still watch the Level 2 video after that (on location this will be facilitated, online you can decide yourself when to watch).
We will also do daily Aquarian Sadhana. This is optional. Times: 5.30-8.00 AM CET.
In case of Corona restrictions the module will be offered fully online:
Start: 10.00 AM 14th of July
End: 18:00 19th of July
Price: €500,00
_________________________________________
DEUTSCH
Kundalini Yoga Teacher Training Level 2: Authentische Beziehungen
VOR ORT UND ONLINE (hybrid)
Authentische Beziehungen
Schließe dich selbst in Gott ein, indem du vollständig an der menschlichen Erfahrung teilnimmst. Von der Inkarnation deines Geistes über das Leben bewusster Beziehungen bis zur Verschmelzung mit dem Göttlichen während des Lebens. Jede Beziehung ist eine Manifestation der Beziehung zwischen der individuellen Seele und der universellen Seele. Praktische Diskussionen, Übungen und Meditationen, die einen tiefen Einblick in die grundlegendste Natur von Mann und Frau geben, sowie die Methoden zur Verwirklichung des höchsten Bewusstseins durch das Erfüllen deiner Menschlichkeit.
Vor Ort @
Yogahaus Prasaad
Almenstraße 11
78234 Engen-Anselfingen
Deutschland
Ankunft am Nachmittag des 13., Abreise nach dem Frühstück am 20.
Preis: €550,00
Unterkunft und Verpflegung: €350,00
Die Schulungen beginnen am ersten Tag um 10.00 Uhr CET und an den folgenden 5 Tagen von 9.30-10.00 Uhr. Wir werden spätestens um 16:30 Uhr CET online aufhören, und die Online-Teilnehmer können sich danach noch das Level 2 Video ansehen (vor Ort wird dies moderiert, online kann man selber entscheiden).
Wir werden auch täglich Aquarian Sadhana machen. Dies ist optional. Zeiten: 5.30-8.00 UHR CET.
Im Falle von Corona-Einschränkungen wird das Modul vollständig online angeboten:
Beginn: 10.00 AM 14. Juli
Ende: 18:00 19. Juli
Preis: €500,00