Divine Woman Divine Mother
Women's Training for Pregnancy Yoga, Post-Partum Care
and Female Leadership
26-31 May 2022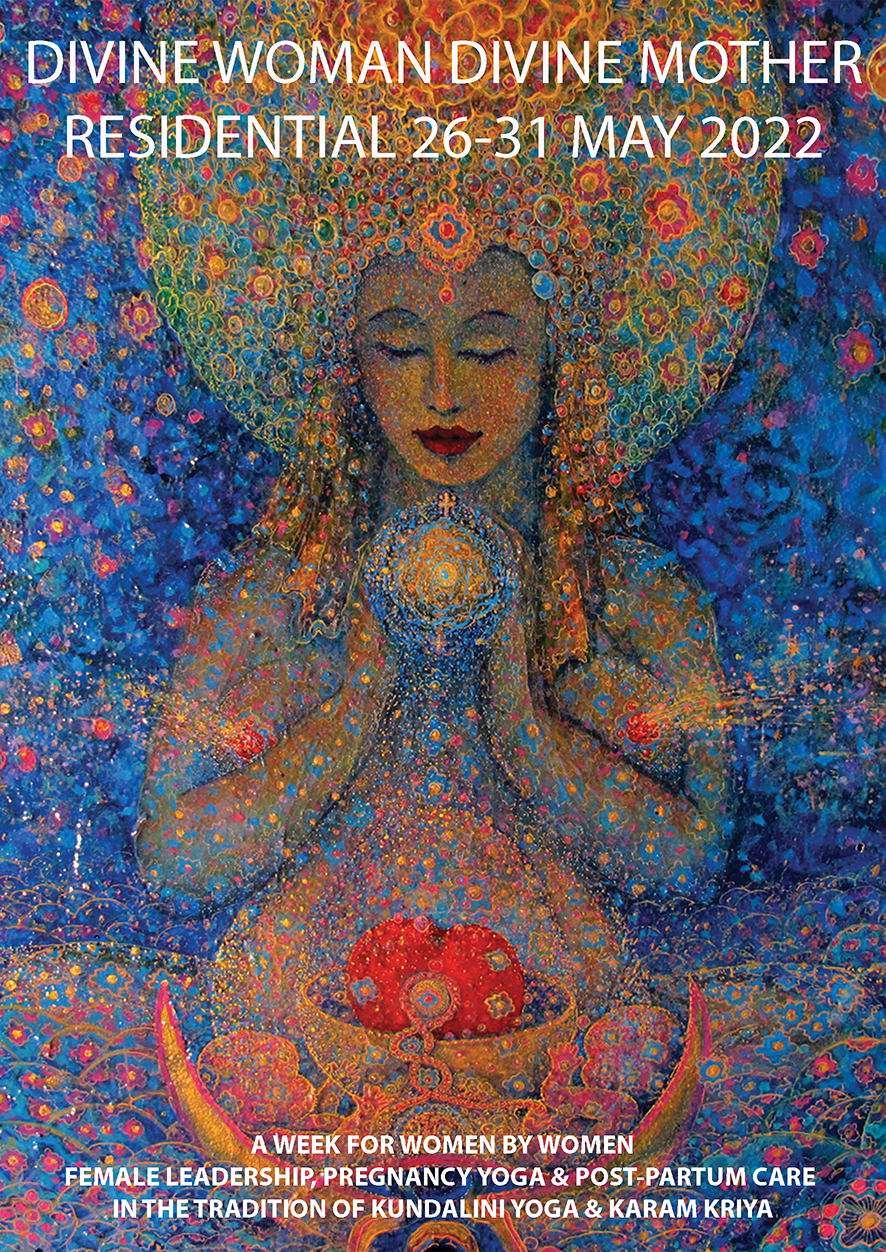 Art by Leigh McCloskey
Online and if possible also 6-days-in person
at Yogahouse Prasaad; Engen, Germany
Online price
EUR 650 for the entire course (module 1,2 and 3) if registered by 15.4.22
Deposit course
A deposit of EUR 200,00 is required with your application. This is only refundable within 14 days of your transaction. The remaining amount of EUR 450,00 resp. 485,00 is due latest two weeks prior to start of the course.
Fee for singular modules:
EUR 200 for Module 1: Kundlini Yoga for Pregnancy
EUR 350 for Module 2: Postnatal Support Training
EUR 200 Module 3: Teachings for women, female awakening and leadership
You reiceive a EUR 50 discount if you decide to join 2 modules.
The course fee includes:
Teaching fee incl. manual for the postpartum modul, registration fee, administration and general services, membership fee postnatalsupportnetwork.
On-site price
In addition to the course fee (see above):
Accomodation EUR 23 p.n. in a shared room or EUR 10 in your own tent (EUR 138 resp EUR 60 for entire course)
Vegetarian food EUR 35 per day (EUR 210 for entire course)
Extra nights and meals for more comfortable travel arrangements can be booked and will be charged separately. Same fees apply.
Early bird discount price
Full course fee is EUR 650,00 if registered until 15.04.2022.
With registration after 15.04.2022 the full course fee is EUR 685,00.
Payment food & accommodation
Fee for the length of your stay is payable 2 weeks prior to start of the course to reserve your place.
Contact: Bachitar Kaur
Email: bachitar@divinewoman.org
Phone: +491705521796
Dates: 26-31 May 2022

This Compact Training provides a balanced experience of practical hands-on learning and theoretical information on Pregnancy Yoga, Postnatal (Doula) Care, Women's Awakening and Female Leadership.
Join our 1-week Intensive Program with Bachitar Kaur and Charan Kamal Kaur, both experienced Kundalini Yoga teachers, mothers and women with a vision for an uplifting tomorrow.
You will get equipped with all the tools to teach pregnancy yoga classes, prepare the mother for birth and her postnatal time.
Plus it also supplies you with a wealth of tools to support women around conscious conception, pregnancy, childbirth and postpartum.
This means it will give you the tools to offer pregnancy yoga courses as well as qualify you to register as Postpartum Doula with the Postnatal Support Network (https://www.postnatalsupportnetwork.com) or work independently as postnatal Doula
The inspiration of and movement towards a more conscious conception, pregnancy, birth and motherhood is embedded in a global if not cosmic movement of female awakening. As a consequence this training also puts focus on female liberation and leadership by taking a bigger picture: The divine woman in every woman. What is keeping her at bay and what may entice her to step forward consciously co-creating this world?
During the week you will experience female community, sharing and caring and you will learn to deepen your sense of common sisterhood and how to carry it far into the world.
The future is feminine.
It requires solidarity among women.
Become a part of it and support other women during pregnancy. You will help allowing the best possible start for the small and tender new human life in the womb of the mother-to-be. Creating a peaceful foundation for the next generation.
We look forward to welcoming you in May Online and potentially in Engen. Sat Naam.
"We are at the beginning of a new era, where the Divine and Sacred Feminine is going to be more present again. One way you to reconnect more to the Feminine within all is through serving the essentially female capacity of growing and giving new life" Bachitar Kaur