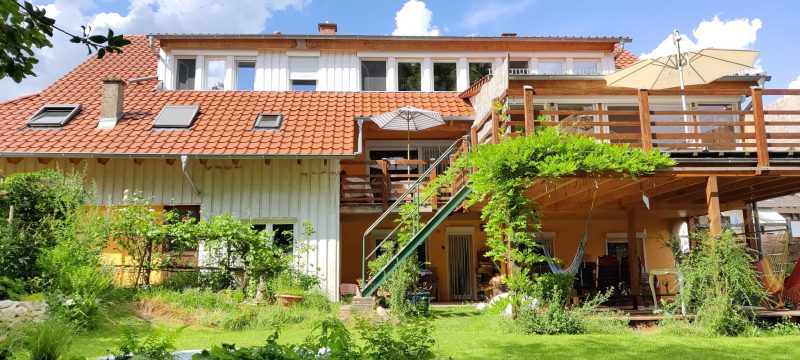 About Yogahouse Prasaad (Für Deutsch nach unten)
Yogahaus Prasaad is situated at the edge of a nature reserve at the foot of the highest Hegau Vulcano, the Hohenhewen. Our facilities are decorated with love and simplicity and they are clean and quiet. On a clear day, not only can you enjoy the view onto the beautiful landscape of the Hegau but also see the majestic Alpes in the distance.
Our rooms and dormitories do not come with TV und mostly also not with a private bathroom but communal showers and toilets. There is WiFi access and the possibility to join yoga classes.
Our house is open to everybody who respects our non-smoking and non-drinking policy as well as to refrain from preparing and eating meet products on the premises.
Read more
Prasaad means gift. For our family it is a real gift to be living in this beautiful place amidst the stunning nature of the Hegau between Lake Constance, Black Forest and the Alpes. Yet, as it so often goes with gifts, only sharing them with others is what truly makes their heart beat.
In this spirit we have renovated and rejuvenated this former farmhouse to become a place for community. We developed the attic and transformed it into a spacious yoga shala and seminar room with adjacent kitchen and group-bedrooms that comfortably facilitate 14 people.
The ground floor accommodates a fully equipped kitchen for group events and a homely dining room/lounge with direct garden access into our extensive garden and fruit orchard. It also hosts a guestroom for those who wish to spend time at Yogahouse Prasaad based on work exchange.
The first floor hosts our family quarters and our office. To the former farmhouse also belongs a big orchard and garden where tents may be put up for camping.
Yogahouse Prasaad is a unique place for everybody who feels happy in the sobering simplicity of nature's beauty or who is seeking well-being and harmony of mind, body and spirit through the practice of yoga, conscious and healthy lifestyle and community living.
We offer regular Kundalini Yoga Classes (you can join while staying with us), One-to-One Yoga Sessions, Yoga Retreats, Outdoor Activities combined with Yoga as well as Kundalini Yoga Teacher Trainings.
We are also trained in Karam Kriya, sacred numerology, that studies the principles of creation to transform our karmic (Karma: patterns that we serve) way of life into a dharmic (Dharma: patterns that serve us) one. We offer Karam Kriya Consultations based on your date of birth and organize trainings for people who wish to study this sacred science.  
As already mentioned, Prasaad means gift. It also means kindness. May Yogahouse Prasaad be a place for people to experience kindness: their kindness towards themselves as well as others' kindness. And may those who have seen kindness carry it into their families, workplaces and communities to eventually see the world from a different angle where the mind's game of enemy is over. Such is our prayer.
Sat Nam.
Über Yogahaus Prasaad
Yogahaus Prasaad liegt am Rande eines Naturparks am Fusse des höchsten Hegau-Kegels, dem Hohenhewen. Unsere Räumlichkeiten sind einfach mit Liebe eingerichtet und gepflegt und strahlen Ruhe aus. Bei gutem Wetter bieten die Räume nicht nur einen wunderbaren Blick auf die schöne Hegau-Landschaft sondern auch bis zu den Alpen. Unsere Zimmer sind Gruppenschlafräume und bieten kein TV und nicht immer ein eigenes Bad, wohl aber ist Internetzugang/WLAN im Haus vorhanden, sowie Etagenduschen und Etagen-WC´s. Zudem besteht die Möglichkeit an Yoga-Stunden teilzunehmen.
Unser Haus steht allen Menschen offen, die sich einen vegetarischen und genussmittelfreien (Alkohol, Zigaretten etc.) Aufenthalt auf unserem Gelände vorstellen können. Es ist v.a. ideal für Wanderer und für Seminar-Gruppen.
Mehr lesen
Prasaad bedeutet Geschenk. Für unsere Familie ist es ein wahres Geschenk an diesem schönen Ort zu leben, inmitten der atemberaubenden Schönheit des Hegau, zwischen Bodensee, Schwarzwald und den Alpen. Jedoch, wie es oft der Fall ist mit Geschenken, erst wenn man sie mit anderen teilt fängt ihr Herz wirklich an zu schlagen.
In diesem Sinne haben wir das ehemalige Bauernhaus renoviert und modernisiert und als einen Ort der Gemeinschaft konzipiert. Wir haben das Dachgeschoβ ausgebaut und in einen groβzügigen Yoga Shala und Seminarraum transformiert, mit sich anschlieβender Küche und Gruppenschlafräumen, die komfortabel 14 Personen beherbergen können.
Das Erdgeschoβ bietet eine vollständig ausgerüstete Küche für Gruppenevents und ein gemütliches Speisezimmer/Aufenthaltsraum mit direktem Zugang zu unserem weitläufigen Garten und Obststück. Hier im Erdgeschoβ befindet sich auch unser Gästezimmer für diejenigen, die gerne eine gewisse Zeit im Yogahaus Prasaad wohnen möchten und dafür in Haus und Garten mitarbeiten (work exchange).
Im ersten Stock leben und arbeiten wir. Hier liegt unsere Wohnung und auch unser Büro. Zum Haus gehört auch ein groβer Obstgarten, der genügend Platz bietet für Zelte und Camping. Und sobald die Renovierungsarbeiten am Haus gegen Ende des Jahres abgelaufen sind, werden wir damit beginnen, einen Gemüsegarten und ein Gewächshaus anzulegen, für unser eigenes biologisches Obst und Gemüse.
Yogahaus Prasaad ist ein besonderer Ort für jeden, den die ernüchternde Einfachheit und Schönheit der Natur glücklich macht. Oder der Wohlbefinden und Harmonie von Körper, Geist und Seele durch Yoga, bewuβte und gesunde Lebensweise und durch Gemeinschaftlichkeit erfahren möchte.
Wir bieten regulären Kundalini Yoga Unterricht an (offen für Anfänger und Fortgeschrittene gleichermmaßen), Einzel-Unterricht und Entspannungsberatung, Yoga Seminare und Retreats, Outdoor Aktivitäten kombiniert mit Yoga und Berufsausbildungen zum international anerkannten Kundalini Yoga Lehrer (KRI). Darüber hinaus sind wir in Karam Kriya ausgebildet.
Karam Kriya arbeitet mit bewuβter Kommunikation und basiert auf die letzte Sprache des Universums, die Zahlen. Dabei beobachtet und studiert man im Karam Kriya die Prinzipien der Schhöpfung, um unsere karmische (Karma: Verhaltensmuster denen wir dienen) Lebensweise in eine dharmische (Dharma: Verhaltensmuster die uns dienen) zu übersetzen. Wir bieten Karam Kriya Beratungen basierend auf das Geburtsdatum und organisieren Ausbildungen für Menschen, die diese heilige Wissenschaft gerne studieren möchten.
Wie bereits erwähnt, Prasaad bedeutet Geschenk. Es bedeutet aber auch Freundlichkeit und Güte. Möge Yogahaus Prasaad ein Ort sein, an dem Menschen Freundlichkeit und Güte erfahren: ihre Freundlichkeit gegenüber sich selbst genauso wie die Freundlichkeit anderer. Und mögen sie diese Freundlichkeit und Güte mit sich nehmen und in ihre Familien, Arbeitsplätze und Gemeinschaft tragen, um schlieβlich die Welt von einer anderen Perspektive zu sehen. Eine Perspektive, in der das Gedankenspiel der Feindseligkeit ausgespielt hat und wir anstatt gegeneinander mit- und füreinander leben. Dies ist unser Wunsch und Gebet.
Sat Nam.