Kundalini Yoga Level 2
Module Conscious Communication
With Shiv Charan Singh and Hari Krishan Singh
On location in Belgium & Online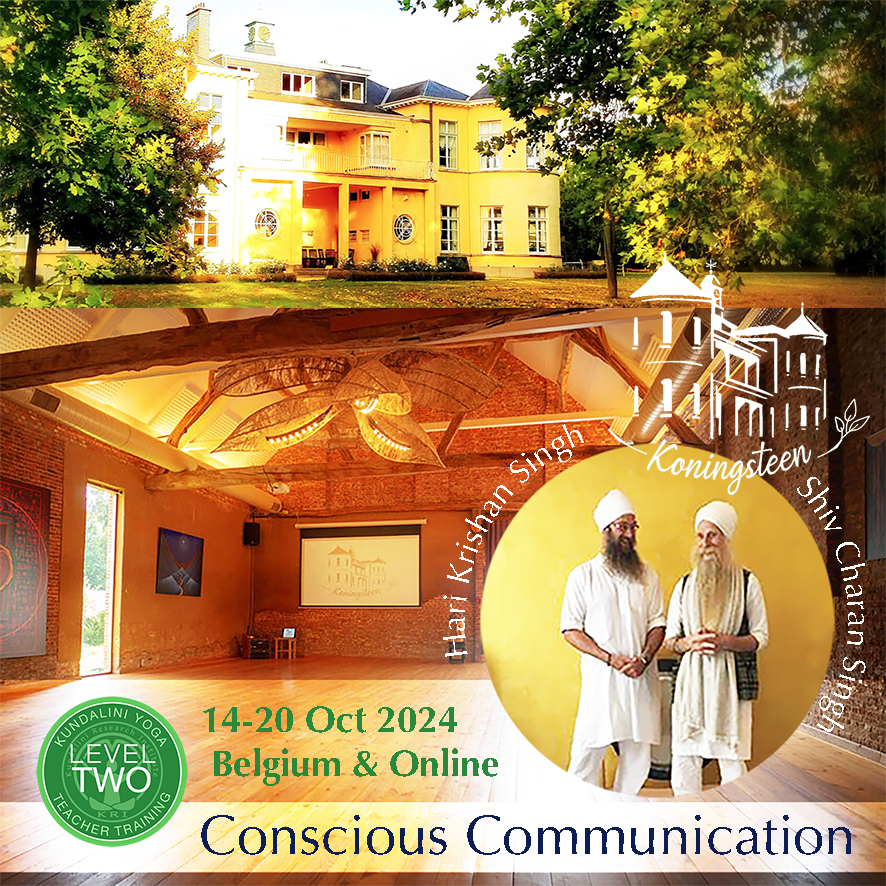 Conscious Communication
Hold the teacher's voice. Empower your speaking. Deepen your listening. Sounding from the navel. Pitching from the chakras. Projecting & defending. Prayerful communication. Communication blocks; fear/anger. Hidden self, shadow self & the mask. Uplifting others through the frequency of your communication is a direct path to self-mastery.
Date:
Online: 15-20 October 2024
On location: Arrival 14 Oct after 17.00 – Departure evening 20th
If you would like to stay an extra night from 20-21 Oct.:
€47 pp/night for a shared room (incl breakfast)
€67 pp/night voor a single room (incl breakfast)
Bedding and towel included.
Price:
Online: €550,00 pre-registration before 1 Sept 2024. €575,00 after 1 Sept. 2024
On location: €999,00 before 1 Sept. 2024. €1049,00 after 1 Sept. 2024
This price is based on a shared room.
Bedding and towel included.
If you have done this module before and would like to participate again you will receive a 50% discount on the teaching fee: €275,00 + Food and Acc. €449,00 = €724,00
There is also the option to come for Sadhana, or for a single day with only food and no accommodation. Contact us for more information!
Location:
Koningsteen in Belgium (www.koningsteen.be) & online on ZOOM
Koningsteen VZW
Oxdonkstraat 168
1880 Kapelle-op-den-Bos
Belgium
Koningsteen is located 25 minutes drive from Brussels Airport and 40 minute drive from Antwerp.
About 1 hour travel with public transport from Brussels Airport
Schedule:

5.30-8.00 CET Aquarian Sadhana with live music
9.30-16.30/17.00 CET Teachings
17.00-18.00 CET Watching Level 2 video (or reading the transcript in the study guide and doing the Kriya on the same day)