Kundalini Yoga Level 2
Module Conscious Communication
With Nirmal Singh and Hari Krishan Singh
On location in South-Germany – English Language!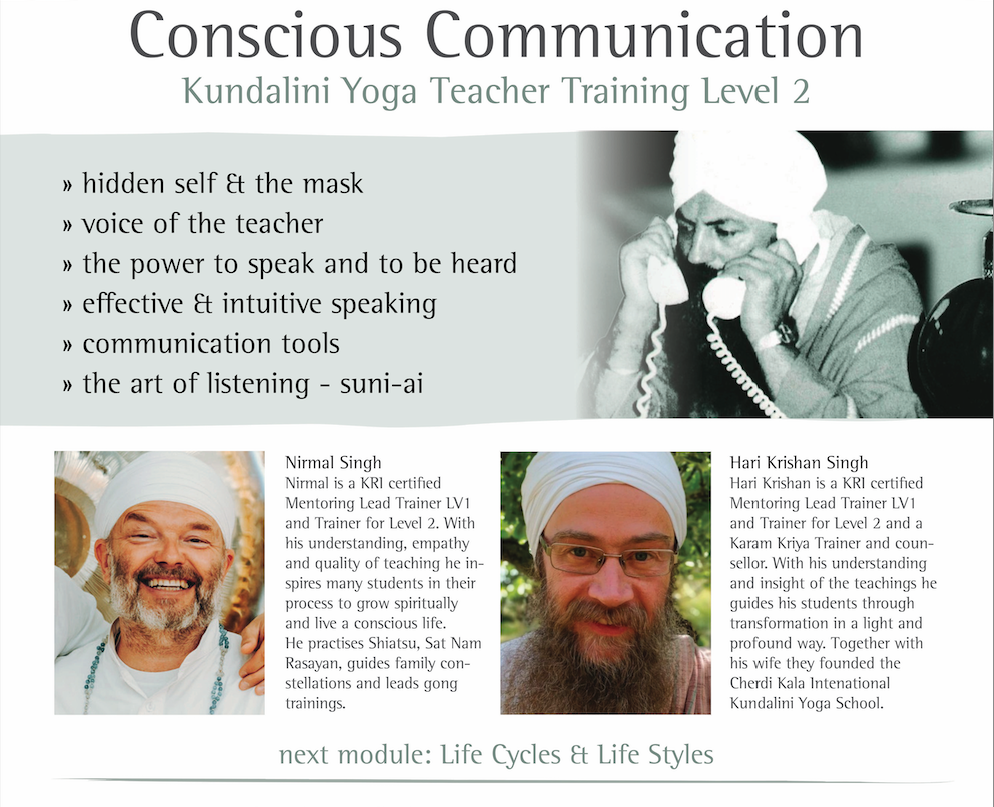 Conscious Communication
Hold the teacher's voice.
Empower your speaking.
Deepen your listening.
Sounding from the navel.
Pitching from the chakras.
Projecting & defending.
Prayerful communication.
Communication blocks; fear/anger.
Hidden self, shadow self & the mask.
Uplifting others through the frequency of your communication is a direct path to self-mastery.
In Level 2, through your personal practice, group process, deep interactive discussion, intense meditations, you will go through a transformation that will help you to deepen your own direct perception of the teachings. It will also serve to improve your ability to create and maintain the Sacred Space of a Teacher.
This course will help you to:* Tap deeper into the wealth of Yogi Bhajan's teachings * Be part of a community and nourish the inspiration to offer others the chance * Strengthen your connection to the Golden Chain * Build more sense of community amongst your peers * Take the teachings into the world on a deeper level 
Excellence is acknowledging your own divinity and guiding others to realize it within themselves
Dates:
10-15 November 2022
On location: Arrival 9 Nov after 17.00 – Departure evening 15th or morning 16th
Price:
Teachings: €550,00
Accommodation and Food: €350,00
This price is based on a shared room. Bedding included. Bring your own towel.
If you have done this module before and would like to participate again you will receive a 50% discount on the teaching fee: €275,00 + Food and Acc. €350,00 = €625,00
There is also the option to come for Sadhana, or for a single day with only food and no accommodation. Contact us for more information!
MORE INFORMATION AND RESERVATION HERE
Location:
Schedule:

5.30-8.00 CET Aquarian Sadhana with live music
9.30-16.30/17.00 CET Teachings
17.00-18.00 CET Watching Level 2 video (or reading the transcript in the study guide and doing the Kriya on the same day).