When:
12/05/2022 – 16/05/2022
all-day
2022-05-12T00:00:00+02:00
2022-05-17T00:00:00+02:00
Where:
Yogahouse Prasaad
Almenstrasse 11
78234, Engen
Germany

Contact:
Cherdi Kala Yoga
+491709359951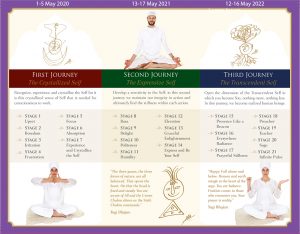 Third Journey: The Transcendent Self
In this final journey, we recognize all that we are as the formless presence of the infinite Self. We open the dimension of our Transcendent Self. This journey requires us to go beyond differences and similaritiesinto reality and unity. By forging an elevated identity with our infinite Self within our finite self, we become spontaneous, creative and flexible. We excel in this infinite game of the soul. Love, compassion and kindness become the core of our experience. At the peak of this journey we become the nothing within the center of all that is. Mystery is now mastery. The sacred space opens up to intuitive presence, which serves innocence, loves life, blesses all, and praises the Infinite, the all within All. You become you, nothing more, nothing less. In this final journey, we become realized human beings.
Stage 15 – Presence Like a Beacon
Tattva Siddhi Meditation for Presence Like a Beacon
Stage 16 – Everywhere Radiance
Meditation: Polishing the Radiant Body
Stage 17 – Prayerful Stillness
Meditation: Deeksha Patra for Prayerful Stillness
Stage 18 – Preacher
Meditation: Chautay Padma Nirgun Mantra
Stage 19 – Teacher
Teacher Meditation- Traatik to See the Energy
Stage 20 – Sage
Meditation for the Sage: Sarb Gyan Kriya
Stage 21 – Infinite Pulse
Meditation for Infinite Pulse: Sodarshan Chakra Kriya
Stage 20–The Sage. This stage marks the final climb toward the Infinite Pulse. Illusion fades away; the notion that there is a me and a you and an it falls away. There is no separation. This is the beginning of liberation.

Happy. Full above and below. Heaven and earth mingle in the heart of the sage. You are balance. Fruition comes to those who encounter you. Your prayer is reality. —Yogi Bhajan
Plus Skill Enhancement Workshops on mantra, breath, dharana, dhyan and samadhi.