When:
05/05/2020 – 18/09/2020
all-day
2020-05-05T00:00:00+02:00
2020-09-19T00:00:00+02:00
Where:
Menorca
Es Carreró
41
07730 Alaior Islas Baleares Spain

Sat Naam dear Teachers to be!
We pray you are all healthy and well in these special and constricting times. Constricting on many levels, but this means creativity goes where it otherwise wouldn't!
One of those creative avenues many are exploring is online teaching. We previously didn't experiment with this method, yet, as it seemed too obvious to meet in person, and we thought the quality would not match the live experience.
Now that we have had a lot of experience teaching online in the last month, creating the right set-up and technological know-how, we are happily surprised that the experience is much more profound than deemed possible! Of course, it still is no match for in-person teaching, but certainly a good alternative currently. We are certain that in the future we will continue teaching certain themes and topics online in our trainings.
As it is in no way clear, yet, when we are allowed or able to travel and meet in groups again, we have been looking for ways to continue our trainings, but also how to start new ones. And this is where you come in!
Based on our online current teaching experience and through a lively and active exchange with colleagues, we have worked out a good formula to not only continue current trainings online, but also to start a new training online. That is why we are very enthusiastic to present to you our new plans for the Menorca Level 1 training.
The idea would be to start the training online and as soon as we are able/allowed to meet again in person, we do so. As an extra option, for the sessions that you have participated online, you are invited to join us again next year for the in-person sessions in Germany or on Menorca for no extra teaching fee, only food and accommodation costs. Further, the online sessions will have a reduced fee, so the overall price of the training, in whichever form, will be cheaper than before.
The structure of a teaching day will be adjusted to the online format. Alongside the group lectures and discussions, we will give you individual exercises, group work in smaller 'break-out rooms', some outdoor tasks, etc.
There are 3 scenarios of which 1 & 2 will be quite likely as we are not really expecting to be able to meet already on Menorca in June. September hopefully yes, but we do have a scenario in case we can't.
Included are overviews of the scenarios in relation to prices and dates. In case of scenario 3 it would be a requirement to join for at least 1 in-person week on Menorca or in Germany in 2021. For scenario 1&2 this is optional but highly recommended.
To join a week in 2021 would cost €400,00 for food and accommodation.
In case the 5th of May is too soon for you to start, or there are some individual days that you cannot join, please contact us for options. We allow students to start latest with the 2nd week in June and catch up with the first sessions next year or in another level 1 training from the Karam Kriya School.
The new information pack is included with more details.
We are looking forward to hear from you and if you would be interested to join this new experience!
Many blessings
Your Teacher Trainer Team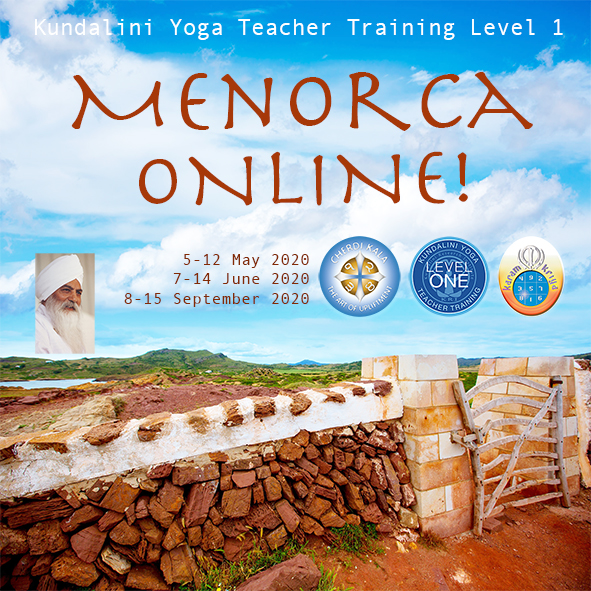 ENGLISH
Información en español COMING SOON