When:
23/10/2021 @ 09:00
2021-10-23T09:00:00+02:00
2021-10-23T09:15:00+02:00

Kundalini Yoga Teacher Training Level 1 Leuven, België.
Nederlandse taal, and in English!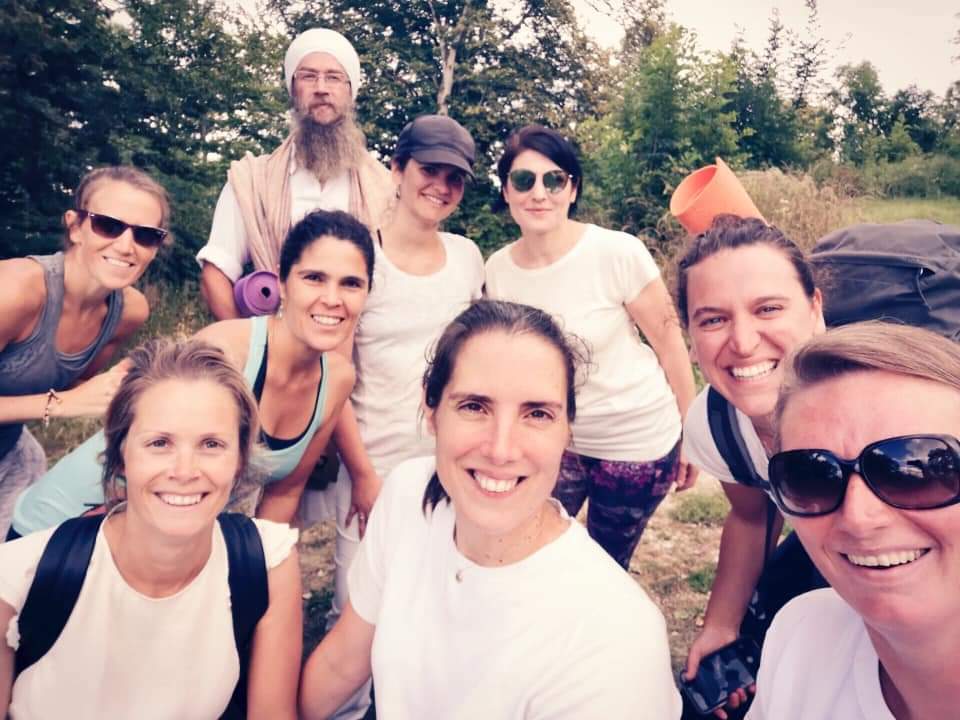 Lichting 2019-2020 tijdens de Residentieel in Zuid-Duitsland
For English: pls Scroll down.
Schema
WE1. 23-24 okt 21
WE2. 13-14 nov 21
Practicum dag. 12 dec 21
WE3. 15-16 jan 22
WE4. 12-13 feb 2022
WE5&6 10-13 maart 2022 4-daagse
WE7. 7-8 mei 2022
WE8. 11-12 juni 2022
6-11 Juli 2022 residential Duitsland
KOSTEN VAN DE OPLEIDING

De kosten voor de volledige cursus bedragen € 2.850,00 – (voor het onderwijs, het leerboek, eten, administratie en algemene diensten, examengeld & 6 dagen volpension Duitsland) bij reservering vóór 14 september 2021. Na 14 september 2021 € 2.950,00.
Deze kosten kunnen in termijnen worden betaald. Laat ons weten wat je voorkeur is.
Annuleringsvoorwaarden: Na inschrijving heeft u 14 dagen bedenktijd om de registratie te annuleren met teruggaaf van registratiegeld. Bij annulering na 14 dagen is het registratiegeld verschuldigd. Bij annulering na het eerste weekend is het registratiegeld, kosten voor het eerste weekend (200 euro) en 100 euro administratiekosten verschuldigd. Na het tweede weekend komen daar de kosten voor het tweede weekend bij (€200,00). Na het derde weekend de kosten voor het derde weekend (€200,00). Na 7 dagen na het derde weekend is het volledige opleidingsbedrag verschuldigd. Neem contact op bij speciale omstandigheden.
Voor meer informatie contacteer Kevalnam Kaur: info@karamkriya.be
Download het informatiepakket HIER
Online aanmeldformulier HIER
ENGLISH
Schedule
WE1. 23-24 Oct 21
WE2. 13-14 Nov 21
Practicum day. 12 Dec 21
WE3. 15-16 Jan 22
WE4. 12-13 Feb 2022
WE5&6 10-13 March 2022 4-day event
WE7. 7-8 May 2022
WE8. 11-12 June 2022
July 6-11, 2022 residential Germany
COST OF THE COURSE
The cost for the full course is € 2.850,00 – (for tuition, textbook, food, administration and general services, examination fee & 6 days full board Germany) when booking before September 14, 2021. After 14 September 2021 € 2.950,00.
These costs can be paid in instalments. Please let us know your preference.
Cancellation policy: After registration you have 14 days to cancel the registration with a refund of the registration fee. If cancelled after 14 days, the registration fee is due. If cancelled after the first weekend, the registration fee, costs for the first weekend (200 euro) and 100 euro administration costs will be due. After the second weekend, the costs for the second weekend (€200) will be charged. After the third weekend the costs for the third weekend (€200,00) are due. After 7 days after the third weekend the full training fee is due. Please contact us in case of special circumstances.
For more information contact Kevalnam Kaur: info@karamkriya.be
Download the information package HERE
Online application form HERE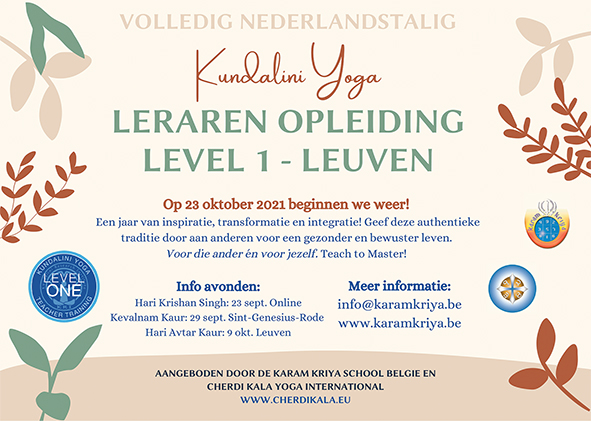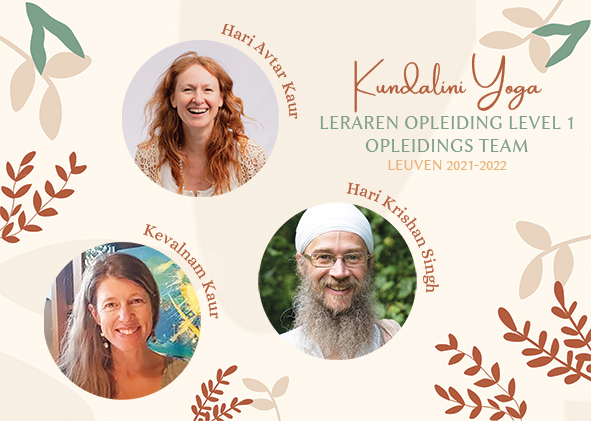 DE OPLEIDING
De Kundalini yoga lerarenopleiding is geschikt voor wie een gecertificeerd Kundalini yogaleraar wil worden, maar ook voor wie de persoonlijke ervaring met Kundalini yoga wil verdiepen.
De opleiding begeleid je in het ontwikkelen van een yogische levensstijl en biedt een kans tot een transformerende ervaring. De theorie en de opgedane ervaringen, dragen bij aan de ontwikkeling van de vaardigheden, het zelfvertrouwen en het bewustzijn die nodig zijn om Kundalini Yoga professioneel te onderwijzen.
Onderdeel van de opleiding is een residentieel met Hari Krishan Singh in Duitsland. Zes dagen lang wordt in een inspirerende omgeving gewerkt aan de mentale, emotionele, fysieke en spirituele ontwikkeling. Het is een unieke kans om samen met je mede Kundalini Yoga studenten te ervaren wat het is om te leven in een spirituele gemeenschap. De yogische principes worden onder andere toegepast door het doen van sadhana, seva (dienstbaarheid) en het eten van vegetarische maaltijden. Er worden lezingen gehouden, gediscussieerd, video's van Yogi Bhajan getoond en natuurlijk veel aan yoga en meditatie gedaan.
De opleiding zal geheel in het Nederlands worden onderwezen met engelse vertaling.
 LOCATIE: 
 De weekenden en de 4-daagse intensief zullen plaatsvinden in Villa Varia te Kerkom bij Leuven. Informeer via info@karamkriya.be voor mogelijkheden en prijzen van overnachting in de buurt.
VillaVaria
Kerkstraat 14
Kerkom 3370
België
De residentieel is bij Yogahouse Prasaad in Zuid-Duitsland: www.prasaad.de Yogahouse Prasaad ligt ongeveer 1,5 uur met de trein van Zurich Internationale Luchthaven, Zwitserland en 15 minuten met de auto van de 'Bodensee'.
Met de auto is het 6 uur rijden vanuit Leuven.
Yogahouse Prasaad
Almenstrasse 11
78234 Engen-Anselfingen
Duitsland
ENGLISH
THE TRAINING
The Kundalini yoga teacher training is suitable for those who want to become a certified Kundalini yoga teacher, but also for those who want to deepen their personal experience with Kundalini yoga.
The training guides you in developing a yogic lifestyle and offers an opportunity for a transformational experience. The theory and experience gained will help develop the skills, confidence and awareness needed to teach Kundalini Yoga professionally.
Part of the training is a residency with Hari Krishan Singh in Germany. For six days you will work on the mental, emotional, physical and spiritual development in an inspiring environment. It is a unique opportunity to experience together with your fellow Kundalini Yoga students what it is like to live in a spiritual community. The yogic principles are applied through sadhana, seva (service) and vegetarian meals. There will be lectures, discussions, videos of Yogi Bhajan shown and of course lots of yoga and meditation.
The training will be taught in Dutch with English translation.
LOCATION:
The weekends and the 4-day intensive will take place at Villa Varia in Kerkom near Leuven. Please contact info@karamkriya.be for possibilities and prices of accommodation in the neighbourhood.
VillaVaria
Kerkstraat 14
Kerkom 3370
Belgium
The residence is at Yogahouse Prasaad in southern Germany: www.prasaad.de Yogahouse Prasaad is about 1,5 hours by train from Zurich International Airport, Switzerland and 15 minutes by car from 'Bodensee'.
By car it is 6 hours from Leuven.
Yogahouse Prasaad
Almenstrasse 11
78234 Engen-Anselfingen
Germany